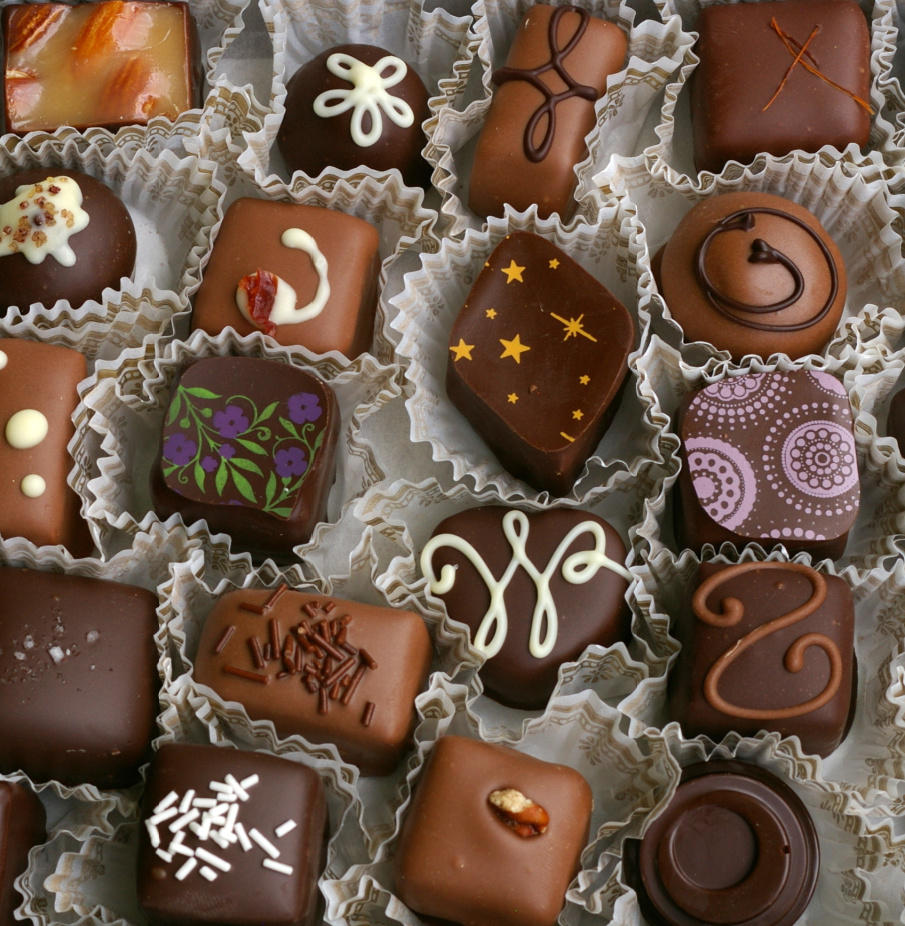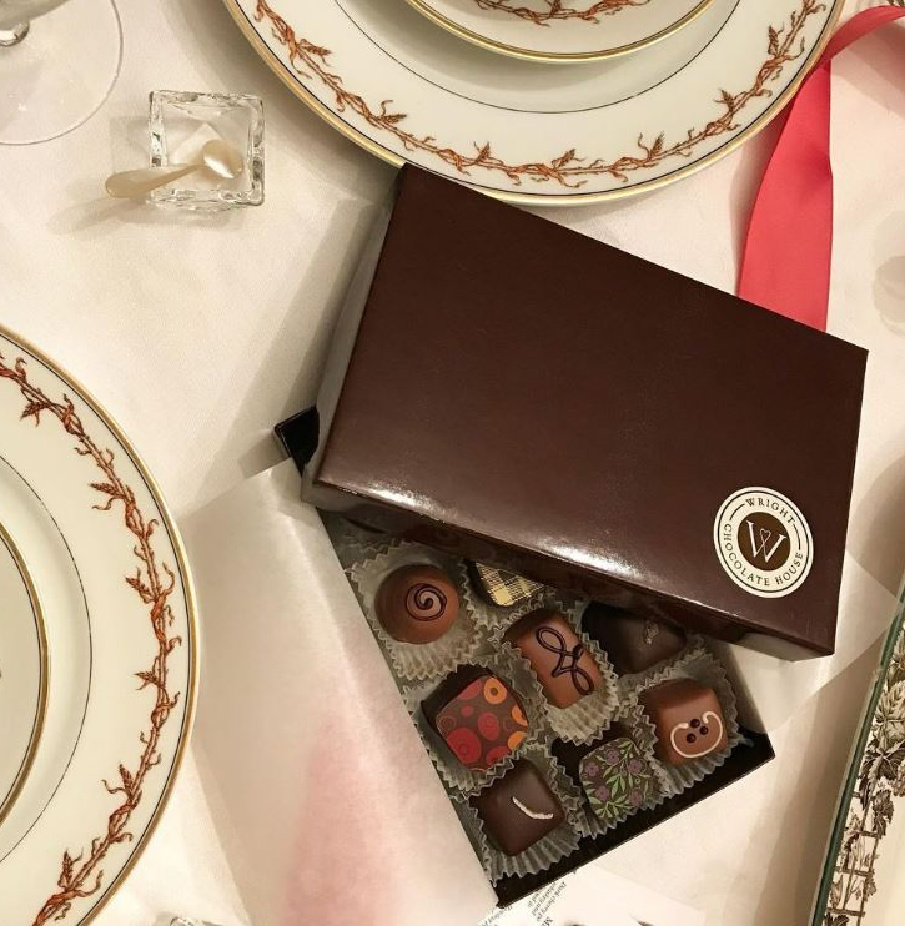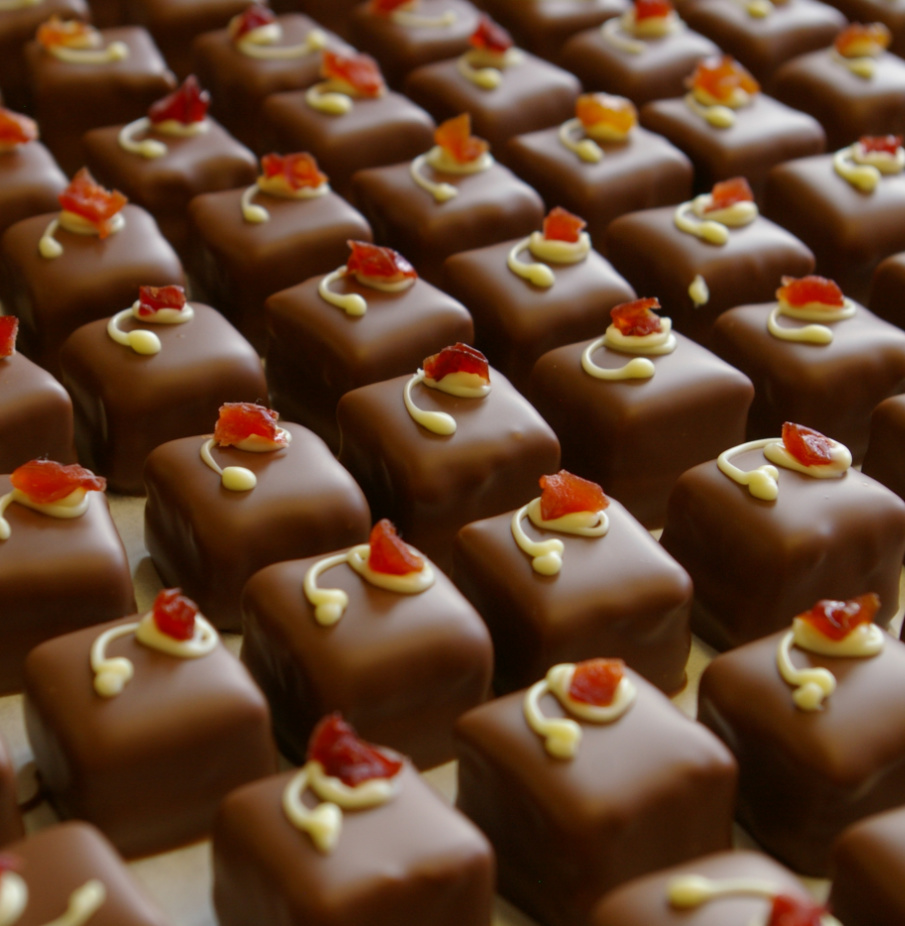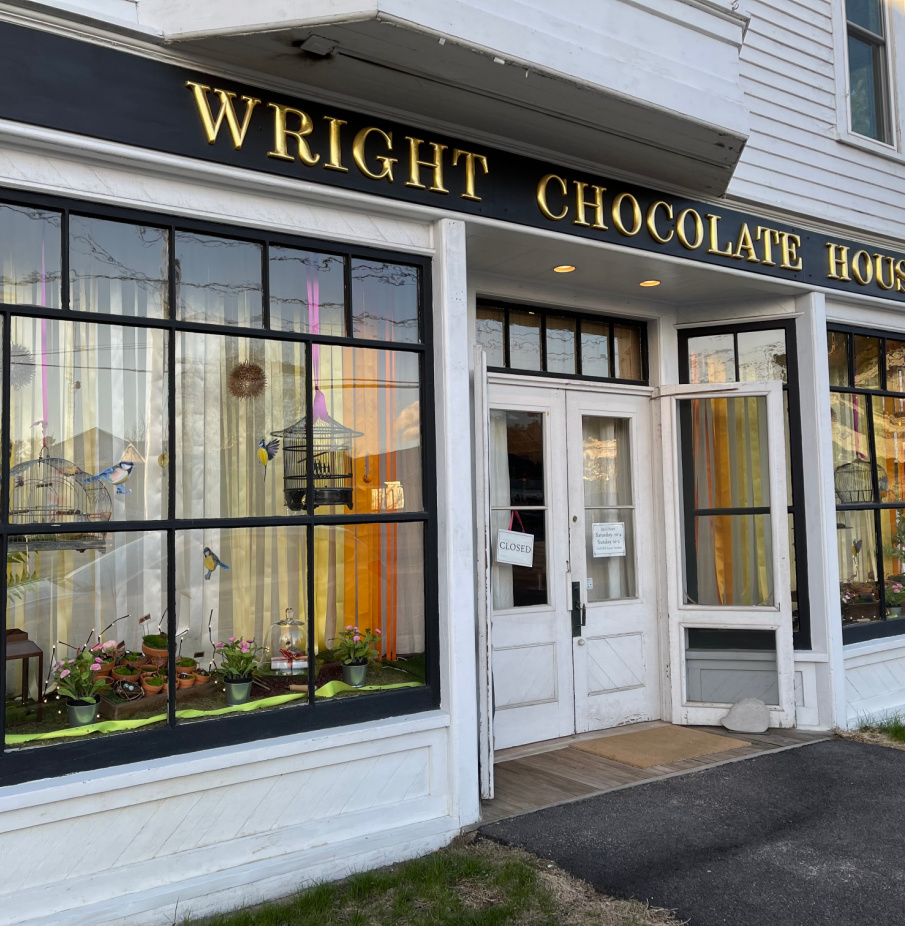 Wright Chocolate House


Limerick
ADDRESS:
24A Main Street
427 Stone Hill Road
Limerick, ME 04048
HOURS OF OPERATION:
Saturday 10-4, Sunday 10-2, October - May
Overview
I started making chocolates for gifts when my husband, son and I moved to Maine from Colorado in 1999. We didn't have extra money to buy Christmas gifts for family, so I made up recipes and sent them as our family gifts that year. In 2000, we bought an old house in Limerick which had 2 kitchens. I turned the second kitchen into my chocolate kitchen and started experimenting with new recipes and chocolate treats. Getting a box of my chocolates as a Christmas gift became a "thing" with our family and friends. One year a good friend of mine told me she didn't understand why I wouldn't sell them, that it would be an awesome business. It was a huge decision to enter into the business side of the creative world as I had gone to art school and not business school in college.
After 10 years of making and giving away what I made, I started to get serious about sourcing the finest chocolate in the world and finding local places to buy cream and other essentials to making truffles. I found an online school that had a course in how to run a business specific to making and selling fine chocolates. I knew I would only sell my own recipes and only what I myself could make by hand. This meant I had to figure out how to produce delicious chocolates and sell them within their fragile fresh tasting window so my customers could always have the best chocolate tasting experience. I also wanted to buy the finest imported couverture chocolate available. This meant spending a lot of money on the chocolate itself and then using Maine dairy products to create the ganache and truffle basis for all my recipes. I am incredibly fortunate to have a wonderful dairy farm in Dayton- Harris Farm- who provides a rich cream that goes into every recipe that uses cream and Kate's butter that makes up every truffle. Also, a talented bee keeper in Cornish who provides amazing honey and my next door neighbors who produce Hilltop Boilers maple syrup, from which I created a Maple caramel specifically made with their darkest syrup.
I went through the process of inspections and licensing the second kitchen in 2012 and this became the commercial kitchen where I still produce every single chocolate by hand. I turned the 1806 cape portion of my rambling old house into a small shop open seasonally on the weekends.
I was asked to join the Snowflake Trail in 2012, a weekend in November where a group of businesses in Limerick, Newfield and Limington all open on the same days. It is a group of hard-working business owners all making something amazing in this small corner of Maine. It was a crazy first weekend for me and I sold over 7000 chocolates and gave away 3000 samples. After that people started coming to my tiny shop and looking forward to my new ideas and creations.
Originally, I sold my chocolates in prepackaged boxes we made up every Friday. After a year or so in business, two lovely customers, Joy and Julie, mentioned to me that they had favorites and could I make up a custom box, or have a case to choose from when they came in? So, I drove to Pennsylvania to purchase a beautiful, antique, glass case once used to display cigars. I came up with a picture card system so customers could choose a card with a photo and description of the chocolate they wanted in their box. From that we make up their personal selection from the case. This is still how we display the chocolates, in a much larger antique glass case but everyone can select their own box from 35-45 kinds and little picture cards go in the box so they know what each chocolate is.
During the pandemic in 2020, I decided to move my shop into a fantastic old building on Main Street in Limerick. The owners gave me carte blanche to gut the interior and make the space my own perfect chocolate shop.
From the beginning my goal was to show people that fine chocolate is special. I have tried to make it accessible to everyone no matter if they can only afford a couple dollars for a treat or much more. I take pride in making every single chocolate by hand knowing that my careful selection of ingredients and fine attention to details will bring joy to my customers.
The best part of what I do is seeing my customers excited to come in and choose their own box of chocolates. Smiling and laughing and bringing family or friends to the shop to share my little shop in Limerick. It's a special place.