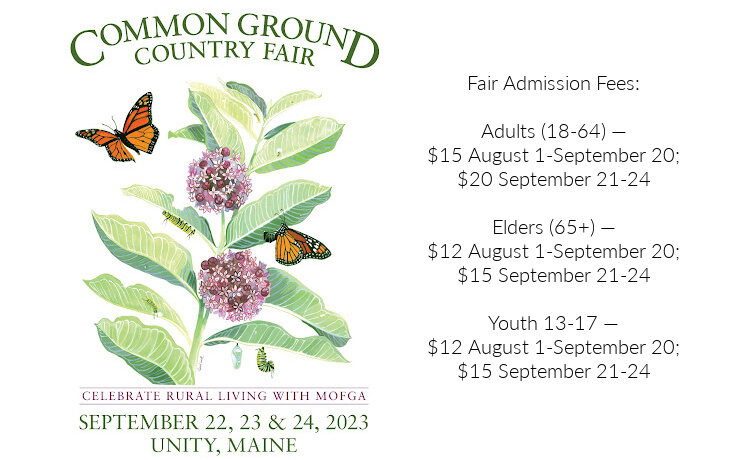 Common Ground Country Fair
September 22 - September 24
EVENT DESCRIPTION
2023 Common Ground Country Fair
The Common Ground Country Fair will be held at MOFGA's Common Ground Education Center in Unity, Maine on September 22, 23 and 24, 2023. The fairgrounds are open Friday and Saturday 9 a.m. to 6 p.m. and Sunday 9 a.m. to 5 p.m. MOFGA's annual celebration of rural living features 1000-plus exhibitors and speakers, and emphasizes vibrant communities, sustainable living and local economies, while highlighting organic agriculture.
We invite vendors, speakers and performers to begin preparations with us, apply for booth space and plan your presentations. To help you with your decision to participate, here are links to our general timeline, refund policy and Fair guidelines.
We look forward to posting updates and keeping the community informed as the year progresses. If you have thoughts, comments, or concerns about the 2023 Common Ground Country Fair that you would like to share with us, please fill out this short survey form. We will take your answers into consideration as we plan and prepare for this year's Fair.
Venue
VENUE NAME:
MOFGA Fairgrounds