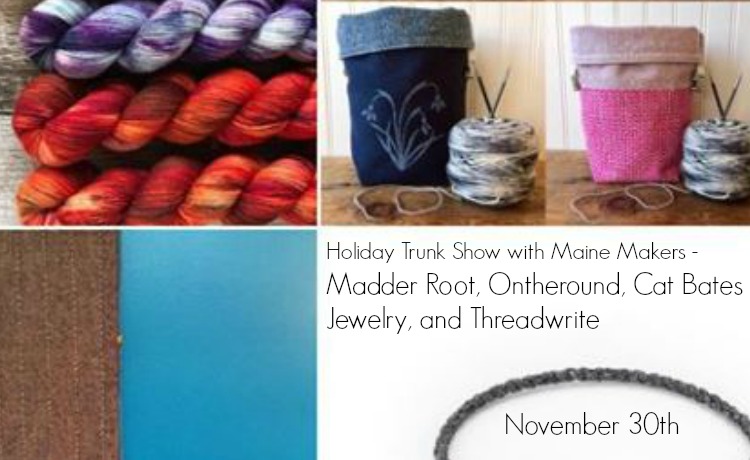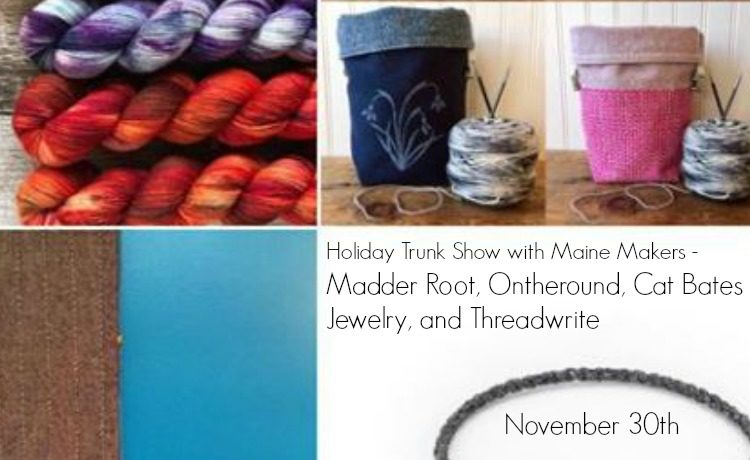 EVENT DESCRIPTION
Join us on Small Business Saturday from 11:00 am to 4:00 pm for a trunk show with Maine makers – Cat Bates Jewelry, Madder Root, Threadwrite, and Ontheround.
Jewelry designer Cat Bates is best known for his use of metal casting and sailor knotting to create unisex designs which exemplify durability, ease of wear, and understated beauty. By working almost exclusively in multiples, utilizing industrial manufacturing services, and celebrating tool marks as elements of design, he strikes a rare balance between artistry & economic accessibility. Cat is represented by boutiques across the United States & collected internationally.
Madder Root is a textile design company located in Old Town, Maine that makes sustainable goods for lovers of fiber and food. Focusing on organic and eco-friendly materials, they create a variety of products for makers of all kinds, from knitters and spinners to bakers and gardeners. Stock up on lovely, screen printed project bags and tea towels, for yourself or a maker friend.
Threadwrite is the work of poet, maker, and patchwork artist Katherine Ferrier. Patchwork cashmere arm-warmers and cowls made from up-cycled sweaters. One of a kind modern patchwork wool blankets and throws. And custom poems, written on the spot, on a vintage 1930s typewriter.
Ontheround is an independent yarn company owned and operated by Rachel Jones. She creates hand dyed yarns in semi solid, speckled, and variegated colorways, as well as hand dyed wool top for spinning, felting, and play. She specializes in fun, unique colorways using Maine made dyes, on US grown and processed yarn and fiber.
Venue
VENUE NAME:
Port Fiber