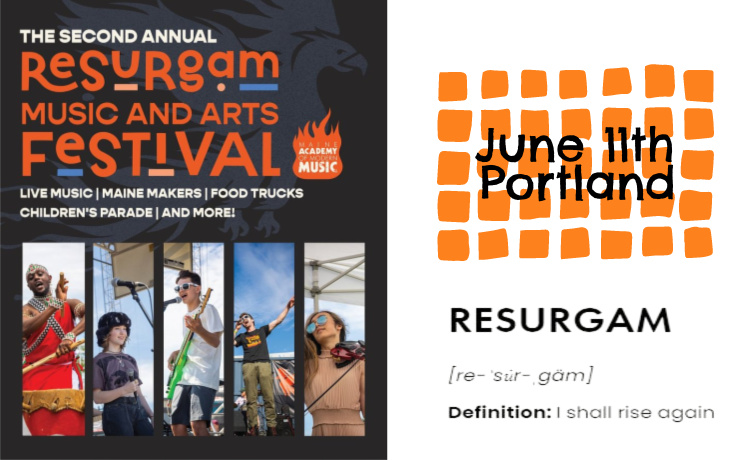 Resurgam Festival 2023
June 11
11:00 AM - 6:00 PM
EVENT DESCRIPTION
The Resurgam Festival will be back for a second season on Sunday, June 11, 2023 at the beautiful Ocean Gateway park. The free, large-scale, outdoor, music and arts festival will offer opportunities for the community to enjoy music, artisanal foods, craft beer, local vendors, and a wide range of cultural activities. Last year, Resurgam was able to connect artists, musicians, and local vendors with an event that drew over 5,000 people. This year there will be multiple music stages including one for musicians who participate in the Maine Academy of Modern Music programs and also stages featuring a roster of international, acoustic, rock, and local musicians.
In addition to the music, the Makers Mall at the Resurgam Festival will be a place that offers Maine based retail vendors, artists, businesses, and nonprofits to promote themselves and sell their merchandise. It offers the opportunity to engage with festival attendees as well as network with people from other organizations that are participating at the event. It is a way to build awareness for Maine products and services, make connections, and be part of the Portland cultural community.
The event will be FREE and open to the public!
Venue
VENUE NAME:
Ocean Gateway and Surrounding Parks