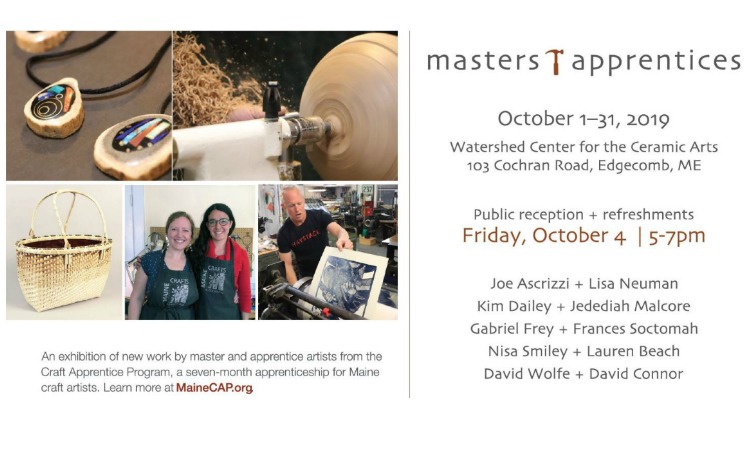 Public Reception: Masters & Apprentices
October 4
5:00 PM - 7:00 PM
EVENT DESCRIPTION
The Maine Craft Apprentice Program is a production of the Maine Crafts Association and the Maine Arts Commission with generous funding from the National Endowment for the Arts. The program is a seven-month (approximately 100 hours) learning experience for apprentices who demonstrate a commitment to acquiring new skills, tools and management habits and furthering their craft practice; they accomplish this through a significant relationship with a master artist. CAP celebrates the master/apprentice relationship as a way to generate creative entrepreneurship, envisioning a sustainable and resilient craft sector for Maine.
To close the program, all artists participate in an exhibition in a formal gallery. Watershed Center for the Ceramic Arts is the 2019 organizational partner and will host the 2019 CAP Alumni Gathering and 2019 Exhibition. Maine Home + Design magazine is the exclusive magazine sponsor.
Public opening reception with the artists Friday, October 4, 5-7pm| Watershed Center for the Ceramic Arts.
The exhibition will feature work created during the seven month apprenticeship by master/apprentice pairs Joe Ascrizzi and Lisa Neuman (jewelry), Kim Dailey and Jedediah Malcore (wood), Gabriel Frey and Frances Soctomah (baskets), Nisa Smiley and Lauren Beach (jewelry) and David Wolfe and David Connor (printmaking).
Venue
VENUE NAME:
Watershed Center for the Ceramic Arts