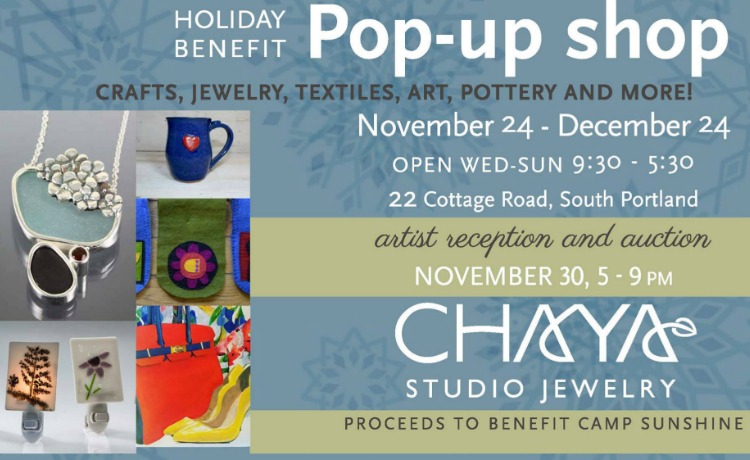 Holiday Benefit Pop-Up Shop
November 24 - December 24
EVENT DESCRIPTION
Kick off the holiday spirit with this multi-artist pop-up that spotlights local artists, supports Camp Sunshine and makes holiday shopping a breeze.
NOTE: On Friday, November 30 we will host an artist reception with Silent Auction, libations and good cheer. 5 – 9pm. Please join us!
Local jewelry artist Chaya Caron, owner of Chaya Studio Jewelry, will host the 6th annual holiday pop-up shop to spotlight local artists, encourage buying local, and give back to the community, all making holiday shopping effortless!
The pop-up shop has become a boutique shopping tradition for the holidays. As always, shoppers will find a wide range of affordable handcrafted items including crafts, jewelry, textiles, art and more.
A portion of proceeds from the month-long sale will benefit Camp Sunshine, a retreat for children with life-threatening illnesses and their families.
Participating artists include: MJ Benson, Gryffon Ridge Spice Merchants, Shannon Wong Pottery, Chart Metalworks and many more.
Venue
VENUE NAME:
Chaya Studio Jewelry